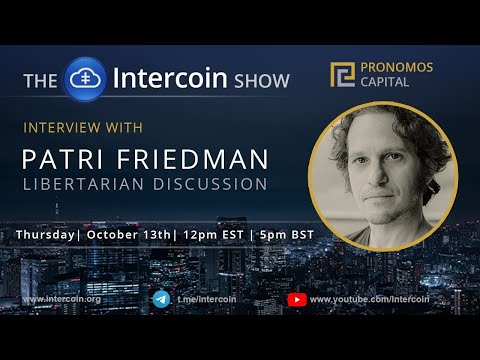 The Intercoin Show hosted a 𝐋𝐢𝐛𝐞𝐫𝐭𝐚𝐫𝐢𝐚𝐧 𝐃𝐢𝐬𝐜𝐮𝐬𝐬𝐢𝐨𝐧 between our CEO Gregory Magarshak with Patri Friedman (grandson of Milton Friedman).
In 2008, Patri founded The Seasteading Institute (funded by Peter Thiel) with the mission "To establish permanent, #autonomous ocean #communities to enable experimentation and #innovation with diverse #social, #political, and #legal systems." since then he has been at the forefront of #libertarian experiments in the #realworld.
𝐓𝐨𝐩𝐢𝐜𝐬 𝐜𝐨𝐯𝐞𝐫𝐞𝐝:
06:10 - 8:32 HOW SOVEREIGNTY AFFECTS THE MARKET AND ECONOMY
8:50 - 12:38 JURISDICTION OVER THE SEA AND SEA VESSELS
12:04 - 16:24 HONDURAS AT THE FRONTLINE IN BUILDING A CHARTER CITY
18:02 -21:35 CONFLICT IN NATIONALISM IDEAS AS MAIN CAUSE OF WARS
49:04 - 52:10 THE OPTION TO CREATE YOUR OWN JURISDICTION
56:43 - 59:24 SCALE OF BUSINESS AFFECTS THE INCENTIVE SYSTEM
59:36 - 1:04:10 EACH CITY WITH ITS OWN CURRENCY
1:04:20 - 1:09:00 E-RESIDENCY AND BLENDED REALITY
1:23:08 - 1:30:14 REVOLUTION BY THE SOVEREIGN COMMUNITY
1:35:13 - 1:38:44 VOLUNTARY INTERACTIONS IS STILL NOT THE PERFECT SYSTEM
If you want to see more videos like this, subscribe to our YouTube channel at https://youtube.com/intercoin
And if you want to take part in the conversation, join this forum and interact with economists, technologists, entrepreneurs, former regulators and sociopolitical commentators, as we all work to build a better world together.